Using Templates And Adding Images Without Spending A Fortune
Using auction sites like ebay to sell products is a great way to make a few bucks and for some it is their sole income. Getting your listing noticed by buyers is half the battle and many people pay extra fees just for the privilege of adding an extra photo or two, or enhancing their listing with an ebay template. There are other options however, if you know where to look and are prepared to upskill yourself a little
You Could Buy a Template Here
If You're Really Not Comfortable Taking On All This HTML Stuff
Working With HTML
Working With What?
When it comes to playing around with your description, it helps to know a little bit about HTML. What's HTML? The Wikipedia definition goes something like this: "HTML, an initialism for Hypertext Mark-up Language, is the predominant markup language for web pages. It provides a means to describe the structure of text-based information in a document by denoting certain text as links, headings, paragraphs, lists, etc. and to supplement that text with interactive forms, embedded images, and other objects. HTML is written in the form of "tags" consisting minimally of "elements" surrounded by angle brackets. HTML can also describe, to some degree, the appearance and semantics of a document, and can include embedded scripting language code (such as JavaScript) that can affect the behavior of Web browsers and other HTML processors." Or in simple terms, it is a set of instructions. Instructions are contained within angle brackets and could be anything from which font, its size and colour to where to find an image on the web. Having a basic understanding of HTML will help you to manage how your listings appear. If you know what you can remove and what you can add to your description you will be able to work magic with your listings. Why not try a
tutorial
and give it a go? Are you keen to sell on ebay but don't know what to sell? Why not give
this
a go?
Take A Look At This Tutorial
Working With Image Hosting And Templates
Fantastic Site For Templates Of All Kinds
These guys have a huge range of
templates
for all kinds of uses. Still stuck for products to sell? Why not give
this
a go?
Learning HTML
Learning HTML doesn't have to be difficult. Learn as much or as little as you want. This guide walks you through the entire Web authoring process, teaching you how to use the nuts and bolts of HTML to build your Web page. You've got to feel good about a guide that tells you that "if you can dial a telephone or find your keys in the morning, you too can become an HTML author."
Beginning HTML5 and CSS3 For Dummies (For Dummies (Computer/Tech))

[Paperback]

by Ed Tittel and Chris Minnick
The Dummies guides are well-known for their simple approach to learning. The guides make it easy to understand by taking the reader right back to the beginning and assuming no prior experience of the topic.
HTML and CSS are essential tools for creating dynamic websites and help make your websites even more effective and unique. This friendly-but-straightforward guide gets you started with the basics of the latest versions of HTML and CSS: HTML5 and CSS3. Introducing you to the syntax and structure of the languages, this helpful guide shows you how to create and view a web page, explains ideal usage of HTML5 and CSS3, walks you through the CSS3 rules and style sheets, addresses common mistakes and explains how to fix them, and explores interesting HTML5 tools.


Serves as an ideal introduction to HTML5 and CSS3 for beginners with little to no web development experience


Details the capabilities of HTML5 and CSS3 and how to use both to create responsive, practical, and well-designed websites


Helps you understand how HTML5 and CSS3 are the foundation upon which hundreds of millions of web pages are built


Features full-color illustrations to enhance your learning process
Beginning HTML5 and CSS3 For Dummies is the perfect first step for getting started with the fundamentals of web development and design.
Just Want To Add Some Photos -
Without All Those Extra Fees?
First of all you need image hosting. This is basically a website which will store your images and provide you with the URL which you can then use in your listings. For many buyers, one image simply isn't enough to really get them involved in a product so if you can offer a range of photos which add to a detailed description this will give buyers more confidence to place bids. A good number of photos is between three and five. Using ebay's hosting for five images will cost $1.00 plus $0.59 if you use Gallery, which you should if you want people to click through to your item. Add to this your fees for listing, your final value fee and your Paypal fee and there goes a fair chunk of any profit you thought you'd made. One of the biggest hurdles to success on ebay is finding good products to sell. Have a look at what
these guys
have to offer.
Free Image Hosting
Who To Use?
There are a few sites which will host your images for free. I like Photobucket for no particular reason other than I've been using it for a while now and it suits my purposes. Here are the steps to uploading an image, grabbing the URL and placing it in your ebay description.
1. Open an account with
Photobucket
.
2. Once you have your account and log in, the screen you will see will look something like this:-
3. Click on the blue button "Upload Images And Video". A window will open where you can browse your images on your computer. Select the images you wish to upload then confirm.
4. Once your images have finished uploading you will see a screen which looks similar to this:-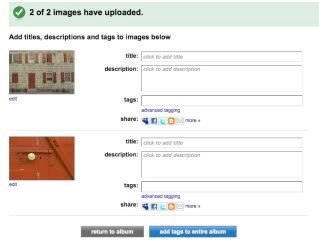 Enter titles for your images as well as a description and tags if you wish.
5. Now open your ebay description and go to the tab marked HTML.
6. Go back to Photobucket and move your mouse over the image you wish to grab. A drop-down box will open under the image. Click on the box next to HTML Code. This will highlight and copy the code for your image. Paste the code inside the description box on ebay. It must go into the HTML box not the standard box otherwise it will appear exactly as you have copied it.

Congratulations! You have just placed an image in your ebay description. If you want more images, simply repeat the process.