A Guided Tour of The Sella Ronda Ski Circuit
The Sella Ronda is a circuit of trails in The Dolomites region of South Tyrol which forms part of the border between Austria and Italy. Originally, not much more than muddy tracks which the locals used to travel between four valleys, it is now a well-known circuit of ski trails linked by lifts which ambitious skiers attempt to complete in a single day.
This is the picture postcard village of Colfosco in the Dolomites with the Sella massif as its backdrop. This beautiful image can be purchased as a poster from
Allposters
Diary Extract
Day 1
"Sunday February 7, 1988. Venice.

We left reasonably early and hit the road to the Dolomiti. For much of the way it was raining and misty but even so as we got closer to the mountains the scenery became more and more spectacular. We stopped for lunch inside the car due to the rain and then continued on. As we travelled further north the villages became more and more Austrian in appearance with wide rooves and painted house fronts. We found the road that travels alongside the autobahn okay and travelled along it via Bolzen to the turn-off for Ortisei or St Ulrich. In this area not only are all the town names and shop signs in two languages but the street names as well. After the turn-off we had 13 kilometres of steep winding road until St Ulrich and the amount of snow on the ground was increasing but it still didn't look promising. We arrived in St Ulrich and had just asked our way in a petrol station when a big Merc pulled in and blocked our way. We had found our relatives."
The Sella Ronda Area
Val Gardena and the Sella Ronda are located in the North of Italy near the Austrian border within the region of The Alps known as The Dolomites. Use the navigation buttons to zoom out and locate the region within Italy, or zoom in to get a closer look at individual villages.
Arriving in Val Gardena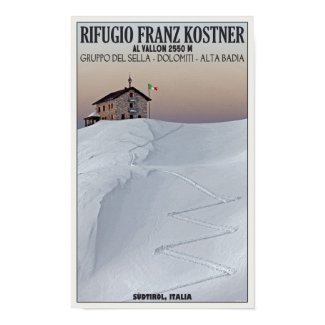 Rifugio Franz Kostner – Südtirol, Italy
by
AdventureTravelArt
See more
Vintage Skiing Posters
We were fortunate enough to be invited to stay as guests in a pensione in St Ulrich, which is also known as Ortisei, by relatives who were there on a ski holiday from Germany. We were the only guests in a picture postcard setting and were immediately welcomed like a family member by the hostel owners. The guesthouse was warm and bright and situated only a short drive from our skiing. We returned at the end of each day to lovely hot showers, home-cooked meals and snug beds. This is where we first encountered
Tiramisu!
Click Here
to see a great selection of
Dolomites Accomodation
Accommodation in The Dolomites
Everything on Offer is Like a Picture Postcard
This is just one of the delightful
Dolomites Chalets
available
as accommodation in the Dolomites area.
Diary Extract
Day 3
"Tuesday February 9, 1988. St Ulrich.

We awoke to blue sky and sun. The view from the pension is superb. Firstly we went in to town to buy a few things before heading for the snow. In town (and others that we went through later) there are snow sculptures and ice formations. Apparently this is an annual competition held in December and January. After judging the sculptures remain until the weather gets the better of them. We have never seen anything like them before. One was of figures on bicycles! We parked at the base of a gondola at a place called Wolkenstein. If yesterday's scenery could in any way be improved on it was here today. At one point we traversed an area called Steinstadt (stone city) where the landscape was covered in weird mounds. In some places the tops of huge boulders showed through the snow. The enormous rocky peaks are always above and around as you ski. On some lifts as you ascend it seems impossible that there will be a way down, but on reaching the top all of a sudden there opens before you a beautiful run leading to another lift. For lunch we skiied down to a small hut perched on the edge of a saddle that dropped away into a beautiful valley with more spectacular sun-drenched mountains in the distance. We had "Spiegeleier and Speck mit Bratkartoffel" for lunch. The girls had hot Advokaat and milk to drink while the men downed Schnapps."
Starting The Sella Ronda
Several Choices for Starting Points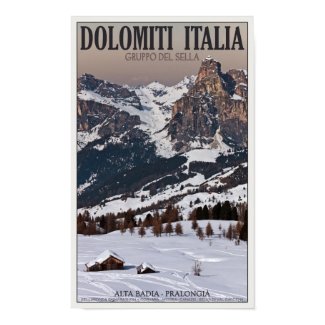 Alta Badia Meadows
by
AdventureTravelArt
Find more
small canvas prints
at zazzle.com
You can join the Sella Ronda at one of the four villages in its path: Selva di Val Gardena, Corvara, Canazei, Arabba. You can choose to traverse it clockwise or counter-clockwise. The circuit is approximately 40 kilometres in total including lifts and trails and can be easily completed in a day provided the weather is fair, you are relatively fit and you ensure that you reach the last lift by 3:30pm.
We would be starting at Selva di Val Gardena, the closest village to our accommodation and had decided to take the anti-clockwise route for no particular reason. If time allowed, we could do the opposite run another day!
Essential Skiing Guide Books
Also Make a Great Keepsake Reminder
Along The Trail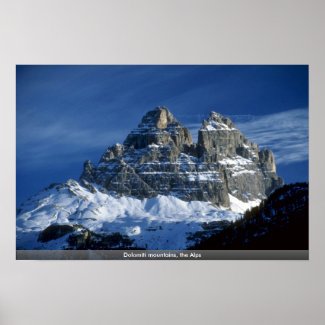 Dolomiti mountains, the Alps
by
beautifulclicks
See other
Dolomiti Posters
We awoke that morning to bright blue skies and warmer temperatures than the last few days. The air was still and crisp and we knew that today was the day we would ski the Sella Ronda.
We reached the first lift, Ciampinoi cable car, early and had only a short wait to get on. We had been told to start before 10:00am to give ourselves plenty of time to complete the circuit. It is estimated that the runs going counter-clockwise usually take around one and a half hours but we allowed ourselves longer. The lifts in total take around two hours.
We were unprepared for the simply breathtaking scenery we encountered while traversing the circuit. At times the feeling is literally of being on top of the world looking across a sea of white, broken by massive chunks of grey stone. As we descended the mountain this was replaced by alternating forest scenes and vistas above picturesque villages.
Useful Sites For More Information
A Camera Is A Must For The Sella Ronda
The panoramas experienced on the Sella Ronda will take your breath away and the photo opportunities abound. You'll want to capture every detail.



Sustenance and Refreshments
Scattered across the mountain there is an abundance of bars, restaurants and cafes collectively known as "Rifugi" These range from simple rustic inns to top-notch restaurants but they all have one thing in common: good food. They are also a welcome break from the rigourous challenge of the circuit.
Check out the amazing
Baite Saslonch Hütte
overlooking the Ciampinoi alpine pasture.
Another interesting experience was encountering, out in the middle of the piste, a man selling shots of Williams, a pear schnapps, from a wooden fruit crate.
Protect Your Eyes From Extreme Conditions
From Blinding Glare Reflection to Bitter Cold Winds
It might be fine, clear and sunny down in the valley when you start out but conditions can change rapidly. Having a good pair of ski goggles with you will be the difference between endurance and misery if the weather turns ugly.
Where Is Your Favourite Winter Destination?
What is your most memorable winter vacation?
I would dearly love to return one day. Sadly, as I get older and my body starts to complain more it is looking less and less likely but the memory of this is experience is certainly one I will treasure.